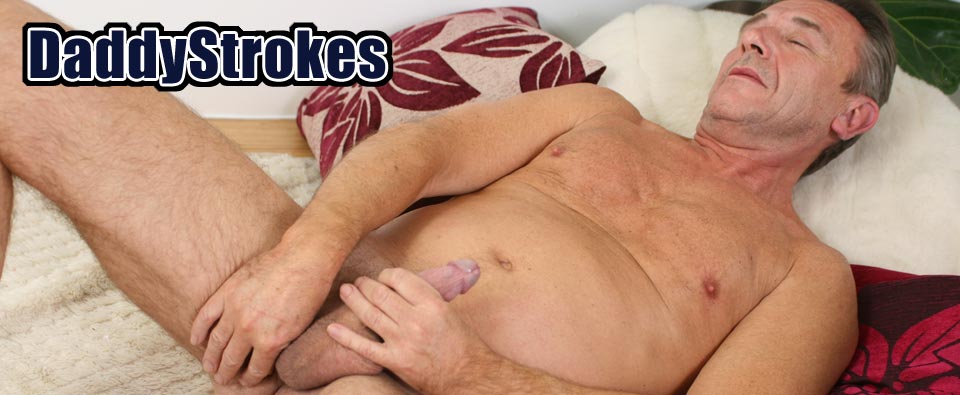 Welcome to DaddyStrokes.com
Daddy Strokes is the nets new home for all admirers of hot mature men and we have a great selection of silverdaddy models showing off their hot old bodies and rock hard cocks as they enjoy some time alone jerking off or getting into some spicy action with their mature fuckbuddies or sexually charged younger admirers. In our membersarea you will find all kinds of daddies, muscle daddies, chubby daddies, hairy daddies, skinny daddies, smooth daddies and true seniors that still enjoy fondling their own meat and spewing their seed.
Shower And a Jerk Off For Grandpa
Jerking off in the shower is nothing new and not just something teenagers do either as this video of a hot mature daddy shows. Everyone loves jerking off in the showers, something about the hot water running down your body as you play with yourself that heightens the experience.

Length: 21 Minutes

Released: 03-10-2015

CLICK HERE TO PREVIEW THE SCENE
Daddy Fucking a Fleshlight
Daddy Will was clearing out some old junk in the attic when he came across his old box of toys from when he was single and with his admirer out of town on business he tests out the flesh light one last time.

Length: 20 Minutes

Released: 02-10-2015

CLICK HERE TO PREVIEW THE SCENE
Daddy Wilf loves to rim tight young assholes and asked us to find a young guy that would love a long rim session so we searched around and managed to find him a hot young piece of ass that he could rim for hours.

Length: 26 Minutes

Released: 02-01-2015

CLICK HERE TO PREVIEW THE SCENE
Hairy Daddy At The Glory Hole
Peter is one hairy cock sucker and he loves sitting in his booth sucking one big cock after the other trying to master the art of giving a great blowjob and judging from the loads he get he is doing a great job.

Length: 13 Minutes

Released: 02-01-2015

CLICK HERE TO PREVIEW THE SCENE
Jason loves sucking on toes and has lots of fun sucking on Brads little piggies and cock but when Brad starts sucking and playing with Jason's mature cock this sucking game turns very one sided as Brad works his magic with both tongue and hands to get Jason to give up his seed.

Length: 26 Minutes

Released: 01-20-2015

CLICK HERE TO PREVIEW THE SCENE
Daddy Strokes features all exclusive movies of mature men
You will not find our movies on any other site - every movie on Daddy Strokes is only available here!
No DRM or token to keep track off
Your membership to Daddy Strokes gives you total access to our movie collection - you dont have to keep track of tokens.
New movies and new hot daddies added every month
We add movies featuring new hot daddies all the time in our efforts to bring you the hottest mature men available

Different daddies for different tastes
Daddy Strokes features all kinds of daddies, skinny, fat , hairy daddies, bears and true silverdaddies.